Hi there, fellow grumpies! 
It's been a while since I wrote something here in The "Unwanted" Box! The past year was really crazy with lots of goings-on and stuff that kept me awake late nights. 😴 I owe you not only a big, crazy recap for 2020, but also upcoming news for the first half of 2021 (check out part 2 soon)! Join me for today's grumpy ride! 🚲🛴 
Since releasing the debut single Airplane Wings in July 2020, I initially reported on a Grumpy Kitty Boy' feature with Tinnitist. It didn't stop there—we got features and interviews from other media outlets too! Check the list below:
Five Questions with Grumpy Kitty Boy in Canadian Beats
 

Airplane Wings in Cashbox Magazine Canada, Record World Magazine, and Business Mirror Philippines 

Cashbox Canada: Grumpy Kitty Boy Gets Authentic & Reflective in Debut Single, "Airplane Wings"
Record World Magazine: GRUMPY KITTY BOY Gets Authentic & Reflective in Debut Single, "Airplane Wings"
Business Mirror PH: Filipino-Canadian Grumpy Kitty Boy releases debut single

20 Questions with Grumpy Kitty Boy in Tinnitist

(I had to answer all twenty questions! I enjoyed them though—I recommend reading everything to get to know me more. 😸)

Airplane Wings in Cashbox Canada's Top 20 Pick Hits (September 2020)

It was an honour to be part of the curated Top 20 picks for September, alongside having a feature article as well! 😻 Tune in to Cashbox Radio and listen to "radio the way it used to be."

Airplane Wings in "Gems From the Ark" Spotify playlist 

The music blog The Ark of Music was kind enough to include the debut single in their Spotify playlist named "Gems from the Ark" that caters to a subset of their main audiences. (I got word from them that "Grumpy Kitty Boy is too cute not to share!" 🤣 I guess I should stay cute and grumpy all the time!).

Airplane Wings at PopCanRadio 

Recording radio liners is actually fun too! 😹 
Tip: Record during midnight—the perfect time to record—so that everyone around is just quiet and asleep. 😴 
Another tip: Tune in to PopCanRadio to hear "Canada's best music." 😜
Even as we're getting coverage from media outlets, visual artist Yuna Kim and I worked behind the scenes for months to produce Grumpy Kitty Boy's first animated music video ever! After creating the first storyboards, Yuna worked tirelessly for three (3) months to get all pencil sketch animations done on time for the scheduled music video release. On my part, I received a radio advertising grant from The Scope at Ryerson (CJRU 1280 AM) under the "ReStart Initiative" of the NCRA/ANREC for the upcoming music video release. I also started a GoFundMe campaign to tap on the generosity of fellow grumpies like you and cover additional production costs for the video project.
Yuna and I finally unveiled the Airplane Wings animated music video on YouTube last November 13, 2020! (It was a Friday the 13th, so yeah I dared defying the odds! 😼).
The fun part of the release was that I also did a Facebook live stream named "Fly Fly Grumpy" to kick off the YouTube premiere and celebrate the occasion. Along with Grumpy Kitty Boy original songs, I also performed a couple of covers including "Brooklyn" (The Midnight) and "Heaven Knows" (Rick Price) with my usual grumpy keyboard. I loved the turnout of that online event!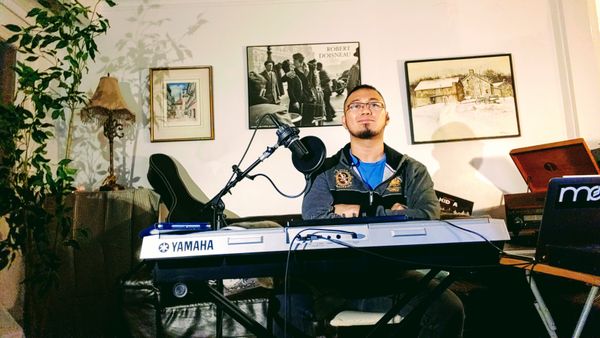 We got additional coverage for the music video release, including being part of "Zach's Picks of the Week" of Canadian Beat's "Weekly Beatdown" (Episode 93)! Watch the full episode HERE.
The animated music video also got live stream and radio play on November 19th in the radio program "Musikahan, Kantahan, at Kwentuhan" of DXCP Radyo Totoo (585 AM), based in General Santos City, Philippines. Shoutout to Ma. Eden Bringier and Marie-Luise Calvero for programming Airplane Wings!
Whew! That was a long bumpy ride, but we finally made it to the year 2021! The global pandemic of 2020 has been difficult for all of us, and yet there are also silver linings especially when we were forced to figure out how to run our daily lives within the confines of our living spaces. The year 2020 has been very productive for Grumpy Kitty Boy, and I look forward to what 2021 is bringing us this time! 
If you still haven't checked out my debut single Airplane Wings, now's the time to do so! Buy a copy of the track to support the grumpy.
Also available in Spotify, Apple Music, Amazon, Deezer, TIDAL, etc. Links all HERE.
Watch out for Part 2 of this big update! Keep staying grumpy, and a Happy (grumpy) New Year to y'all! 😾 
Cheers, 
Juro (Grumpy Kitty Boy)