"Airplane wings fly to Nebraska. Words emerge out of endless blue skies. Paws touch solid ground as miles stretch across cornfields. Melodies and piano strings finally fill in the grumpy silences."
The long wait is over! Grumpy Kitty Boy releases the debut single Airplane Wings on Bandcamp and all digital streaming platforms! Click on this landing page HERE to check all of them.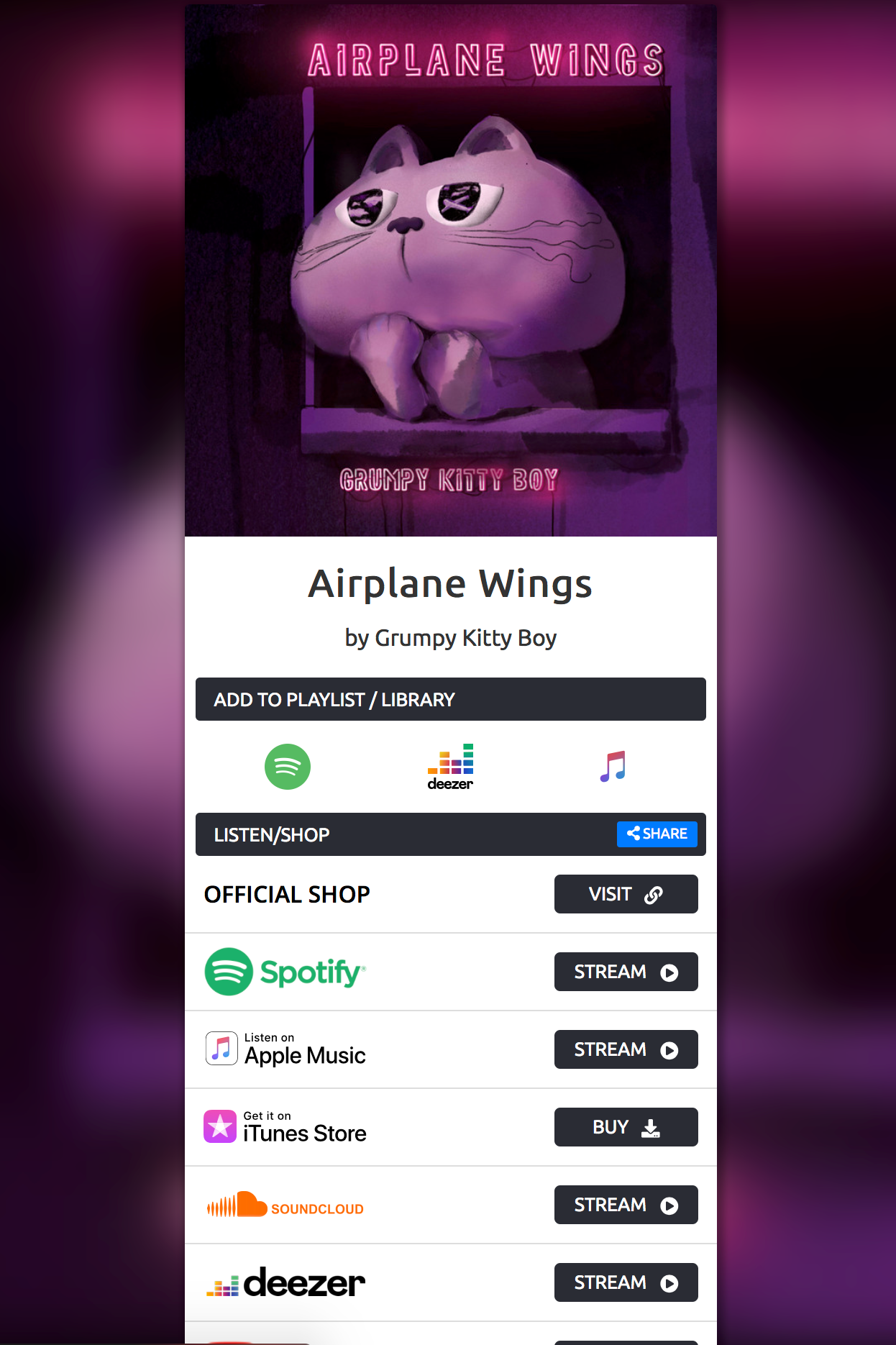 You guess it. Spotify, you say? Soundcloud? Apple Music? Deezer? YouTube Music? Amazon Music? TIDAL? Napster? Yes, yes, and yes! You can choose your favourite platform to stream it, and make sure to save it in your playlists!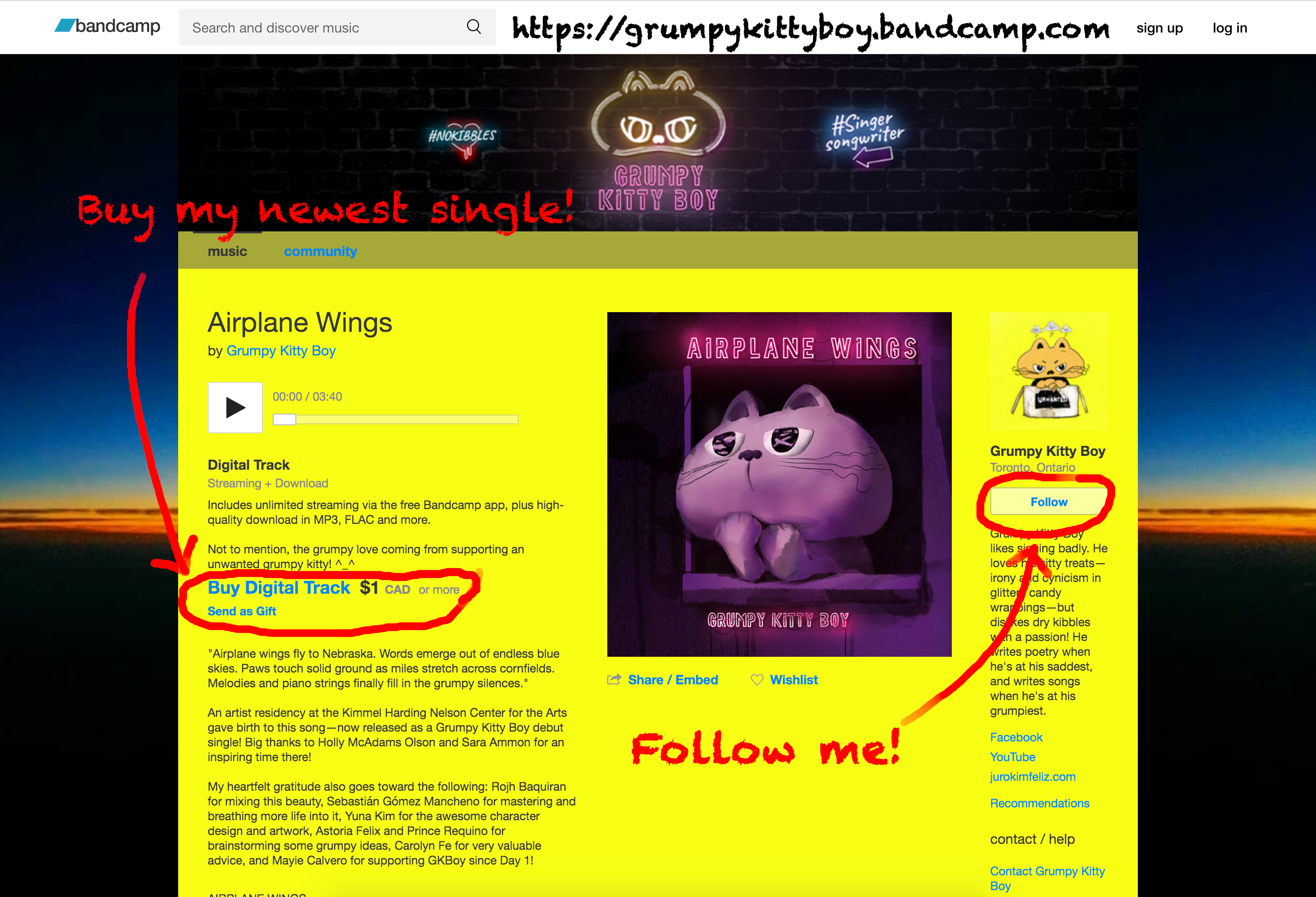 You can stream it for free, but do you see that "Buy Digital Track" part on Bandcamp? You can also buy and download your own copy of the single for $1 CAD instead. Why not do it? And you can definitely pitch in more extra donations to support the grumpy! (Don't send kibbles, as always.)
You can also buy it as a gift to someone in Bandcamp—maybe someone you know needs to hear it. And while you're at it, click "Follow" to hear more about future grumpy music releases! 
Besides that noticeable "unwanted" box he lives in, Bandcamp is Grumpy Kitty Boy's home for all music sales and future merchandise! (Yes, merch! Let me know what kind of Grumpy Kitty Boy trinkets you want in the future.)
But it doesn't stop there! Grumpy Kitty Boy also has a Bandcamp fan profile! Go HERE to see my growing collection of music from fellow artists around. (You'll also see some hiphop tracks I used to spin during my radio days). Don't forget to click "Follow" as well! 
Again now, click HERE to check out "Airplane Wings" in all available platforms. Buy it on Bandcamp as well; make sure to click "Follow" there to hear more about future releases!
---
A little insight of this debut single release: 
A 2019 plane ride to Nebraska became the birthplace of the debut single Airplane Wings. Writing the lyrics first, fleeting thoughts took off from staring at blue skies amidst examining personal feelings of being distant, detached, unwanted, and left out.
Written during an artist residency at the Kimmel Harding Nelson Center for the Arts, Grumpy Kitty Boy offers a first glimpse of grumpy living in this debut single release.
Credits: 
Music and lyrics by Juro Kim Feliz (Philippines/Canada). 
All instrumental and vocal tracks produced by Grumpy Kitty Boy (Canada). 
Mixing by Rojh Baquiran (The North Hit Project, Philippines). 
Mastering by Sebastián Gómez Mancheno (Ecuador/Germany). 
Released by No Kibbles Records 
℗© 2020 Juro Kim Feliz. All rights reserved. 
Cover artwork by Yuna Kim (South Korea/United States).